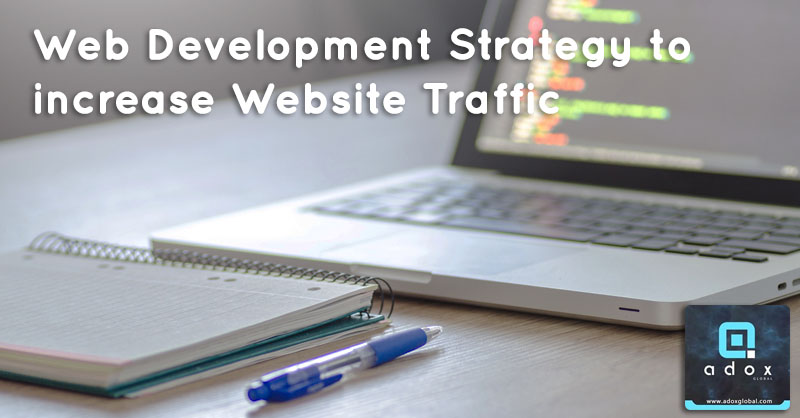 Website is your window to the world and its role and importance is significant. In addition, we would advocate that a strategic approach is taken to web development. Therefore, develop a site that is easy to navigate and has good functionality. This is to ensure that potential customers stay on your website longer.
We recommend that you map out what you want your website to achieve. Also understand what role it plays in your sales cycle as this will determine the functionality you need. This also needs to be integrated with social media and the latest technological advances
It is vital that ongoing digital marketing forms part of any company's Web Development Strategy. It is no longer enough to develop a website and just leave it. Digital marketing tactics should need to be developed so that the website remains current and can be found.
Web Development Strategy to increase Website Traffic
How To Increase Website Traffic When Developing Your Web Design Strategy
Your web design strategy can massively impact on your website's ability to rank in search engines – which we refer to as Search Engine Optimization or SEO for short – therefore your web design strategy must be developed with SEO in mind. What does this mean? Basically your web design must ensure that it doesn't fall foul of any of the common issues that negatively impact on your rankings. Here are a few of the key ones:
1. Responsive Design – How a Responsive Website Can Increase Website Traffic
A responsive web design is one that will adapt and display content effectively regardless of the screen size and platform you use so the user will have a good experience irrespective of whether he/she visits the website on a mobile, tablet, laptop or desktop device. Google openly admits that it penalizes websites that are not responsive. Most new websites will be (if you use a reputable web designer) but many older websites are now in need of repair as they were designed before the boom in smartphones and internet browsing on your mobile phone. How to Increase website traffic – make your website responsive!
2. Site Speed – How Your Site's Load Speed Can Increase Website Traffic
If your website is slow to load up it results in a poor user experience and potential visitors will be off in a flash, clicking on someone else's site instead. To add a double blow, Google's search engine crawlers will penalize you by ranking you lower in their search engine results pages for providing users with a negative experience. Most users, yourself included no doubt, only click on the top ranking search results on the first page. Some items of content like images and videos can slow down the speed at which your website will load but this content is also important for engagement, therefore your web design strategy needs to address how this content will be rendered in such a way so as to allow both users and search engines to have a positive experience on your website. How to increase website traffic – design a website that loads quickly!
3. Website Coding – How Clean Code Can Increase Website Traffic
Some forms of code that are used to build your web pages, such as JavaScript or plug-ins can restrict or prevent some of your most important content on the site from being crawled by search engines. Some inexperienced developers are also guilty of creating code on your web pages that is so clunky that it pushes the important content and keywords too far down the page. Google's search engine crawlers will give up crawling it long before they reach it so they miss out on it entirely. The result – your site will be ranked lower in the search engines and you will get less traffic to your site. How to increase website traffic – design and build a website that has clean and effective code!
4. Sharing Features – How Building a Site That Can Be Shared Can Increase Website Traffic
If you make it easy for your website visitors to share your content, they will be more inclined to do so for others to see. How to Increase Website Traffic – Make Your Website Content Shareable!
5. Build a Blog – How Building a Website Blog Can Increase Website Traffic
Business blogging is one of the most common tactics used to drive traffic to your website for many reasons. More content equals more opportunities to be found in the search engines, and if you share it to your social channels too this can also help to increase website traffic. In addition, Google also makes it clear that fresh content on your site ticks a big box for them because you're providing regular useful information (hopefully!) which gives them a reason to send website traffic to you over a competitor. Blogging is a credibility metric which if done right, demonstrates your knowledge and expertise. How to increase website traffic – build a blog and start blogging!
6. Optimize Your Content – How Content Optimization Can Increase Website Traffic
We've talked about how you can design a website that search engines like Google can crawl, and how to create content that attracts search engine users and potential customers to the site. But what if they get there and you don't give the search engine crawlers what they are looking for? You'll rank lower than you should. On-page optimization is the term used to refer to the placement of relevant and search friendly keywords in crucial places within your website content and code (page titles, meta descriptions, images etc.) to tell Google that your website offers the answers to their customer's search queries.
7. How to Increase Website Traffic – Optimize your website's content for search engines!
These are some important web design and marketing tactics you should be thinking about addressing in your web design strategy to ensure that you build a site that has the potential to attract a lot of traffic. If you build a website that lacks many of these features, some will be harder than others to address post-launch – the worst case scenario is that you may have to start all over again and that's the last thing any business owner wants! So plan in advance, plan in depth and create a website design strategy that will increase website traffic!