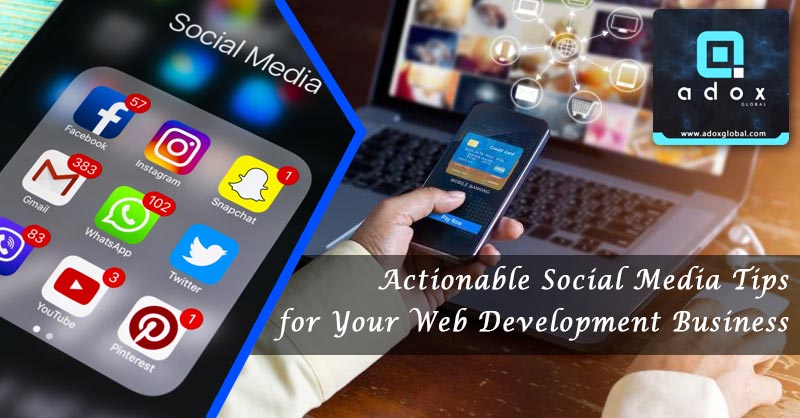 Regardless of what kind of business you run, you're expected to have a strong online presence—and that is doubly true for web development businesses. If you create online solutions for your clients but have poorly designed and managed social media accounts, it doesn't make a great impression.
1. Run Contests
Contests are useful for several reasons. They help you engage with your audience in a fun and casual way. They allow you to give back to your community. They give you access to user-generated content that can be used to promote your brand further.
Some contests require minimal input from users (e.g., participants have to like a particular post to get a chance of winning); others motivate them to provide extra information that can be further used in your lead funnel.
2. Use Consistent Branding Assets Across Social Media
If you do your promotion through several channels (and you should), make sure the assets you use are consistent on all of them—any visitor should immediately understand it's your brand the moment they open your account. Use an identically formatted logo, the same color scheme and, if possible—photos of the same size, as it creates a sense of uniformity and balance.
This should spill over to everything else you do: if you have an app or your own website builder they should be designed in the same recognizable style as everything else related to your business.
3. Treat Your Profiles Very Seriously
Whenever you write an account description or a bio, you should make it clear who you are and what you do in as few words as possible. First, you have a character limit. Second, visitors want to see the information immediately; if you force them to scan through a lot of introductory text first, they may lose interest. Just make sure they truly are relevant, because there is nothing worse than a keyword-heavy mess in an account description.
4. Share Original Content
We've all been hearing "content is king" for years now, but it is not sufficient simply to create original content to generate leads. You need to efficiently share it—and that means using social media. The more content you generate, the more social sharing you do, which creates a consistent online presence and drives traffic to your search-optimized pages, improving your search engine rankings and traffic.Optimizing YouTube clips for SEO can drive a lot of valuable traffic and help you answer common questions from your audience.
5. Use Social Proof
If you get a good review from your customer, make sure to publish it across all your channels, preferably with links leading back to the client's website. A long and detailed review creates a much more powerful impression than a simple, impersonal 1 to 5 rating.
You don't need extensive preparation and huge upfront expenses to begin implementing these tips right now. So don't wait any longer—start forging a powerful online brand presence today!