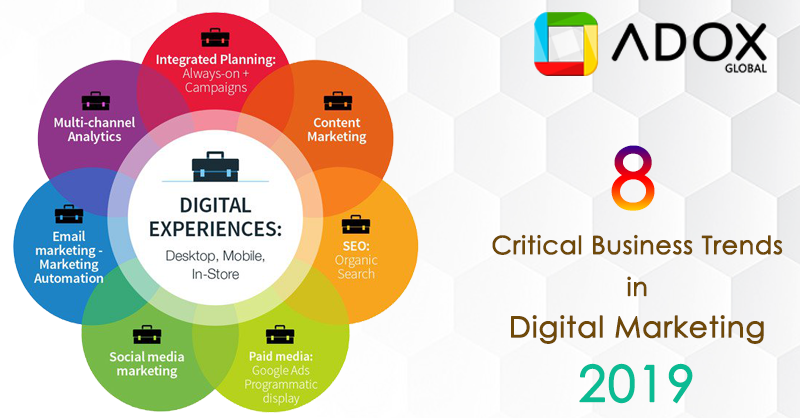 We love reviewing innovation in marketing. It's interesting to see 'what's hot' and 'what's cool', but to keep it practical and actionable as we like, we're equally interested in which communications and transformation techniques will make the biggest commercial improvement for businesses.
A good example of the commercial impact digital technology and media can have is Dominos. Dominos UK only took its first mobile phone order in 2010 when online sales accounted for less than 30% of revenue. Eight years on, Dominos have a market share of more than 50% with digital transactions accounts for more than 80% of sales and the UK smartphone app accounting for more than two-thirds of those sales.
In this review of digital innovation, We take a look at examples of the latest marketing techniques leading companies are deploying which are likely to be adopted as trends across businesses next year.
To structure our review we will look at these new techniques and technologies across these 8 key digital marketing communications techniques which form the digital channel essentials toolkits used to structure our planning templates in our members' area.
1. Digital marketing strategy and planning trends
A key trend in overall digital strategy development is the ongoing popularity of digital transformation programmes. Within digital marketing strategy, there is continued interest in developing integrated digital marketing strategies across multiple channels. Digital transformation programmes are a response to the challenges of digital silos in some companies where there has been a failure to integrate digital across a company. Instead, we recommend using a customer-centered approach to audit your approach for different personas across the lifecycle as shown below.
From digital marketing to multi channel to omnichannel marketing
This visual highlights a broader trend in marketing, which is the wider use of 'omnichannel communications' centered around the customer to describe marketing strategies outside the retail and travel sector where the omnichannel term originated.
"Multichannel is an operational view – how you allow the customer to complete transactions in each channel.
Omnichannel, however, is viewing the experience through the eyes of your customer, orchestrating the customer experience across all channels so that it is seamless, integrated, and consistent. Omnichannel anticipates that customers may start in one channel and move to another as they progress to a resolution. Making these complex 'hand-offs' between channels must be fluid for the customer. Simply put, omni-channel is multi-channel done right!"
2. Marketing strategy and planning
Ultimately, it is the business, marketing, and brand development strategies which drive the growth of a business, so it is important to have a sound marketing strategy and branding in place before working on the digital tactics.
The key trend here is the way digital technologies and media offer the opportunities for digital disruption. Yet digital marketing is not always used as a disruptor. As we discuss in Digital Marketing: Strategy, Implementation and Practice book, digital marketing is more often used for market penetration than new product or market development (these are the classic Ans off growth strategies.
Digital experiences
Creating mobile responsive website designs for the dominant use of smartphones is now old news. We see future innovation in digital experience in the areas of speed and personalization and conversational user interfaces based on improved insight. Google has long proclaimed the importance of download speed and despite the widespread use of RWD, performance Google's benchmarks shows that many businesses are falling short of the required speeds.
3. Search marketing trends
Since Google dominates the results that businesses get from search engine marketing our summary of the search trends here focuses on Google.The most obvious change is the launch of the Google Marketing Platform which saw AdWords renamed to Ads and the Double click ad platform and analysis tools like Google Analytics, Data Studio, and AB testing through data studio more tightly integrated. For organic search the update to keep an eye on in 2019 is Google's Speed Update which penalizes slower sites and was released after months of trials. Another ongoing organic change to track in 2019 is the evolution of Google's search snippets which I track adoption of via the Mozcast SERPs features analysis.
This shows the importance of the features integrated into the organic SERPS of which related questions are currently at an all-time high with images and featured snippets remaining important. The prominence of these features shows the importance of understanding and answering the questions your audience ask as a more conversational search develops via smartphone and voice-activated smart speakers.
4. Social media trends
The government-commissioned annual Communications Market Review is one of the best sources for compiling data on Internet and Social Media usage. The visualization gives a great summary of the changes in three of the main consumer network:
Facebook – Static or declining in most age groups except the older (55+ age group) which is now the biggest group of users
Instagram – Increase in usage across all age groups with the largest, the 25 to 34 age group followed by 18 to 24
Snapchat – The largest increase and biggest user group is again the 25 to 34 age group showing that Snapchat isn't just for teens. Indeed, there are also increases in users in older age groups which are not far behind the younger age groups in adoption levels. However, the frequency of use isn't considered in this compilation.
We can expect that Instagram ad spend continues to increase in line with increased usage and better advertising options on the platform. Within Facebook, increased use of Messenger is an opportunity. The latest statistics from Facebook show the importance of Messenger: with 1.3 billion people use Messenger every month; 8 billion messages exchanged between people and businesses every month and 78% of people with smartphones using messaging every month. As well as targeted sponsored ads, use of Messenger for conversations is a major trend.
5. Email marketing and marketing automation
Of all the channels we cover in this article, finding new innovation in email marketing techniques is the most challenging. Most email marketing techniques are well established and most recent trends related to improving relevance and interactivity on smartphone. This recent report benchmarking email experiences of retail and travel brands gives a good summary of the state of the art.
6. Analytics and reporting
We've been banging the 'Actionable Analytics' drum for nearly 10 years now since we believe in the power of data-driven marketing based on digital analytics and customer research. It's why we're called Smart Insights! . Systems such as Google Analytics and Adobe Analytics are relatively static in terms of reports and functionality. For me, the main trend here is using softer measures to get customer feedback. For example, I've been taking a look at some really interesting case studies from Vision Critical (Disclosure: A Content Marketing Partner of Smart Insights) which show how savvy brands are using customer communities to feed back.
7. Content marketing
The Content Marketing Institute does a great job of showing trends within content marketing via its research and case studies. The research section on CMI shows similar patterns within content marketing compared to previous years. A more strategic approach to content marketing with many businesses now having a holistic content marketing strategy to support audience engagement and commercial goals of leads and sales
8. Paid and earned media
To complete the picture of digital channels, we need to review advertising and PR. We finish here, since although digital media are hugely important to demand generation and branding, discerning trends on cross-industry data is difficult in this sector where there is a reporting lag, which means that reports for ad types aren't published until the next quarter.
Online advertising spend by format
The big winners are native advertising and video advertising which we can expect to continue to be important into 2019 after video advertising overtook display for the first time.